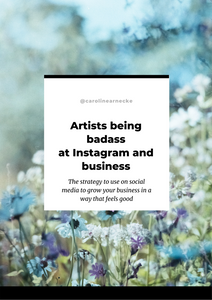 What if using Instagram to build your creative business was suddenly easy and fun?
When you have finished this book and all the exersices, you will have a strategy to help you grow your business on Instagram. You will have the confidence to bring your work out in the world and you will know what to do and when to do it.
Topics covered:
Branding, your ICA, Hashtags, How to make Money, How to get more followers, The Algorithm, What to post, What not to post, Mindset, The Know-Like-Trust factor, Your Profile, Captions, Stories, Photos and much more.
I know that time is our most important currency and I do not take this lightly. When navigating this jungle of offers out there, I want you to know that I know where you are coming from. It's not easy to build a following these days, when it's not enough to snap a photo of your latte, add a yellow filter and the followers should magically come.
I ALSO know that for a lot of creatives, marketing is just not up their alley. They feel sleazy, pushy and out of their comfort zone. I get it, I've felt that too. But I need to tell you this: If you want a thriwing business that can support you financially, spiritually and provide you with the lifestyle and freedom you want, you need your work out in the world for your potential customers to see it. It's time to stop hiding and time for some real change in the way you approach this thing called "marketing". Can I get a "YES, Caroline! I'm in!"-  please?
This book is for you that is
New to Instagram as a business owner.
Already run a business but want to grow using social media.
Is scared of putting yourself "out there"
Have a feeling that it's pushy to try and sell your own pieces.
Don't know how where to start
Don't know what to do
Remember:
You don't know what you don't know. We all start from scratch. Social media is THE best place to share your gifts with the world. There has never been a better time than now!
Format: E-book, 53 pages.
 You'll get a link to the download right after purchase.